| | | |
| --- | --- | --- |
| Welcome | | You are not currently logged in. |
| | | |
| --- | --- | --- |
| | | |
| | | |
| | | |
Elderly woman rescued from burning home Hero firefighters battled a three-alarm blaze and billowing smoke to rescue an elderly Brookline woman who had collapsed on her couch yesterday — finding her in the nick of time with the help of a handheld thermal-imaging device. Read More...
Brookline Firefighters Honored at Firefighter of the Year Awards
Nine from the Brookline Fire Department were among those honored in a ceremony in Worcester yesterday, thanking them for their work in saving the life of a Washington Street woman
By Grahame Turner
Nine Brookline firefighters were among those honored at the 22nd annual Firefighter of the Year ceremony, which took place in Worcester yesterday. The men and women of Brookline's fire department were honored for their actions at 405 Washington Street, in which they rescued a woman from a ground floor apartment.
The nine honored: Lt. Kyle McEachern, Lt. Paul Trahon, Firefighter Christine Hagerty, Firefighter Patricia Cripe, Firefighter Marcus Paes, Firefighter Philip Buckley, Firefighter Frederick Johnston, Firefighter Craig Campgna and Firefighter Paul Dubrow.
Lt. McEachern was also promoted to Fire Captain at a Selectmen's meeting earlier in the week, effective Dec. 12.
Also honored at the ceremony, Medal of Honor recipients Michael Bird and David Walstrom, firefighters from Wareham, as well as emergency response crews from around the Commonwealth who responded to tornadoes, hurricanes and freak snow storms earlier this year.
Courtesy of Brookline Patch
Six IAFF Members Awarded Public Safety Medal of Valor
September 29, 2010 – Every year since 2001, the president of the United States has bestowed the Public Safety Medal of Valor, the highest national award for valor by a public safety officer, on deserving men and women. This year, six IAFF members received the honor, including Brookline, MA Local 950 members Paul Pender Jr. and Rick Johnston, Palm Beach County, FL Local 2928 member Edwin O'Berry and Eastern Missouri Local 2665 members Bill Appel, Andrew Neff and Michael Chellis.
Vice President Joe Biden and Attorney General Ed Holder presided over the ceremonies. All fire fighter honorees report that both Biden and Holder were very cordial and gave them their full attention.
Pender and Johnston were recognized for their exceptional courage while responding to an April 16, 2008, house fire. When the call came in, there was a report that someone in a wheelchair was trapped on the second floor.
"By the time we got there, the person in the wheelchair had made it out, but the heavy smoke and excessive heat were causing some other complications," says Johnston. "Fellow Local 950 member Stephen Nelson had been knocked down by a backdraft and was partially buried under debris. We had to go in and get him."
Johnston and Pender put their own lives at risk, moving through heavy flames and smoke, to find Nelson and pull him safely out. All had to be treated for burns after the incident.
From Palm Beach County, Florida, Local 2928 member Edwin O'Berry was honored for his bravery during an incident on April 8, 2009. O'Berry was among other fire fighters changing shifts at Fire Station 31 when he saw an officer hit in the head and his handgun stolen.
"The fire station is located in a very bad area of town," says O'Berry. "In fact, the captain from the previous shift was in the process of telling me that someone tried to steal one of our engines the night before when all of this started happening. I didn't know until later that the officer's attacker was the same person who tried to steal our engine."
O'Berry and fellow Local 2928 member Blum Desravins stepped in to help. O'Berry went to retrieve his personal gun from his car. And Desravins began helping the downed officer out of harms' way.
Meanwhile, the suspect carried the officer's handgun as he ran toward some nearby apartments. O'Berry chased after him. The two eventually ended up face-to-face, at which point O'Berry shot the suspect in self-defense.
The police officer survived, but the suspect later died of his injuries. The Palm Springs Police Department submitted O'Berry's name for the Medal of Valor for his courageous actions. O'Berry also reports that, like other recipients, the White House provided air travel and accommodations for awardees and one family member.
"I wanted to take both of my sons," says O'Berry. "Thankfully, my local offered to pay his way. I really appreciated that."
In Maplewood, Missouri, three Eastern Missouri Local 2665 fire fighters – Bill Appel, Andrew Neff and Michael Chellis— were honored with the Medal of Valor for their actions in July 2008. The fire fighters were among several public safety personnel dispatched to what they believed was a routine vehicle fire.
They arrived to find a truck on fire. When Local 2665 fire fighter Ryan Hummert approached the burning truck with the hose, someone shot him in the head. "The shot seemed to come out of nowhere," says Local 2665 fire fighter Andy Neff. "As we worked on Hummert, it was clear that the situation was not good."
As this was happening a police officer, who had also responded to the scene, was also shot by the gunman. Neff began administering medical attention to the police officer as Local 2665 fire fighters Bill Appel and Micheal Chellis moved Hummert out of the line of fire.
Throughout the incident, Appel kept communication lines open with dispatch so that more police officers and medical assistance could be sent to the scene.
Unfortunately, Hummert did not survive his injuries.
The medal is awarded annually by the president to public safety officers who have exhibited exceptional courage, regardless of personal safety, in the attempt to save or protect human life. To receive the Medal of Valor, public safety officers must be nominated by the chief executive officer of their employing agencies.
(Retired I.A.F.F. member Firefighter Gerry Murphy was also honored.)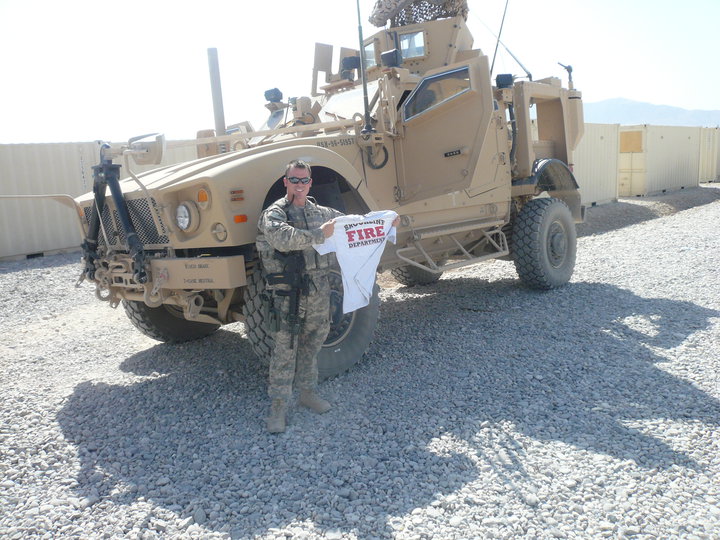 Andrew Amendola, Brookline Police Department
Son of Brookline Fire Captain Joseph Amendola
| | | |
| --- | --- | --- |
| | Action Center | |
| | The Jim Riley Snare Drum by Ludwig is named after Jim Riley, son of Former Local 950 President James "Chet" Riley and current drummer for Country Recording Artist Rascal Flatts. Jim is proud of his firefighter family heritage and has designed a drum emblazed with the traditional fire service maltese cross making it ideal for honor guards and fire service buffs alike. | |
| | | |